American Affordable Housing Group (a development company) and AAH Management Co., Inc. (a property management company) was founded in 1990 with its entire focus on providing affordable housing to low and moderate income families and senior citizens in New Jersey.  Starting with a 30 unit apartment in Camden, New Jersey AAH eventually grew to manage over 1,100 units of multi-family and senior apartment complexes to serve local communities and households with limited income.
Families with children need to provide the best education for their young ones but living in neighborhoods with top rated school systems was not affordable for many parents who struggle to make ends meet. Senior citizens living on limited income need housing that provide a comfortable living at a reasonable price.  AAH recognized these needs and expanded rapidly to provide such housing and accept subsidies from the State and other charitable organizations to assist in providing a home to qualifying households.
Our tenants enjoy the facilities and rave about the service we provide (see below).
Our goal is to target other prime locations where we can provide similar housing in other locations in New Jersey.
Our trained leasing consultants and knowledgeable property managers are just a phone call away to advise and assist you to qualify for affordable living at our properties.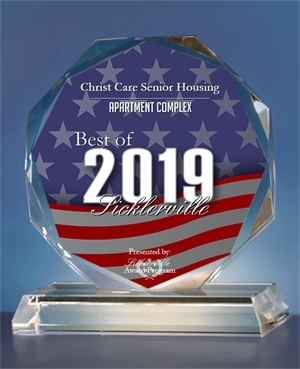 It is our pleasure to inform you that Christ Care Senior Housing has been selected for the 2019 Best of Sicklerville Awards in the category of Apartment Complex.
For details and more information: 2019 Best of Sicklerville Awards – Apartment Complex
---
We are proud of the $1500 worth of groceries were purchased, bagged and delivered to residents in partnership with the Willingboro Police Department.  The Rotary Club of Burlington County donated 200 boxes of lettuce and produce that were delivered last week in addition to the first delivery.
---
Photos a tenant took from last nights trunk or treat. The tenants and children all loved it and had a great time. We are so thankful for Bordentown Police, Bordentown Fire Dept., Blair's family, the tenants who participated in handing out candy, and the Mason's for coming and helped to make this such a great event. It was great to neighbors and children out smiling and having fun with each other.









---
I don't usually write emails like this, but I had to tell you what exceptional people you have working for you. I have received excellent customer service from your employees in the Sergi Farms rental office and maintenance I was even more surprised with the exceptional customer service I received. I was welcomed and treated with respect from the moment I filled out my application to the moment I moved in. The process was very smooth! You'll have my repeat business for years to come because of them and I will continue to rant and rave these positive experiences to everyone I encounter looking for a new place of residency."

— Shaina Ross-Rios
---
Your Management Staff and your Maintenance team made me feel at home immediately, and their welcoming presence has continued over these past six years."

— Carmela DiMaria
---
The complex has a very clean playground which is always full of smiling children, including my own."


— Jami
---
From the moment the car turned the corner I was immediately taken in by the setting. The apartment complex surrounded by trees, giving the feeling of being in the country with no one to bother you, just peace and contentment. A beautiful gazebo that sits in the center of immaculately kept grounds."

— Charlotte Smith
---
I would describe the living arrangement at Christ Care Senior Housing as a picture perfect postcard. Beautiful grounds, clean wide hallways, emergency pulls cords, spacious apartments."


— Phyllis Pettis
---
I would like to take this opportunity to commend your Office Management Staff for their professionalism and welcoming presence. The Maintenance Staff uses their technical skills very efficiently and promptly when responding to residents' calls for needed repairs in the apartments and on the grounds." 

— Ceola Cox
---
They have literally been a phone call away; anytime I need something or have concerns with my unit; their well-trained staff shows promptness, professionalism, and attentiveness.  It is a place where my children and I now look forward to returning to everyday."

— Atiya Davis
---
My present residence is a little bit of heaven, Thank You!"


— Rebecca Terry
---